Date/Time
Date(s) - 12/10/2022
10:30 am - 11:30 am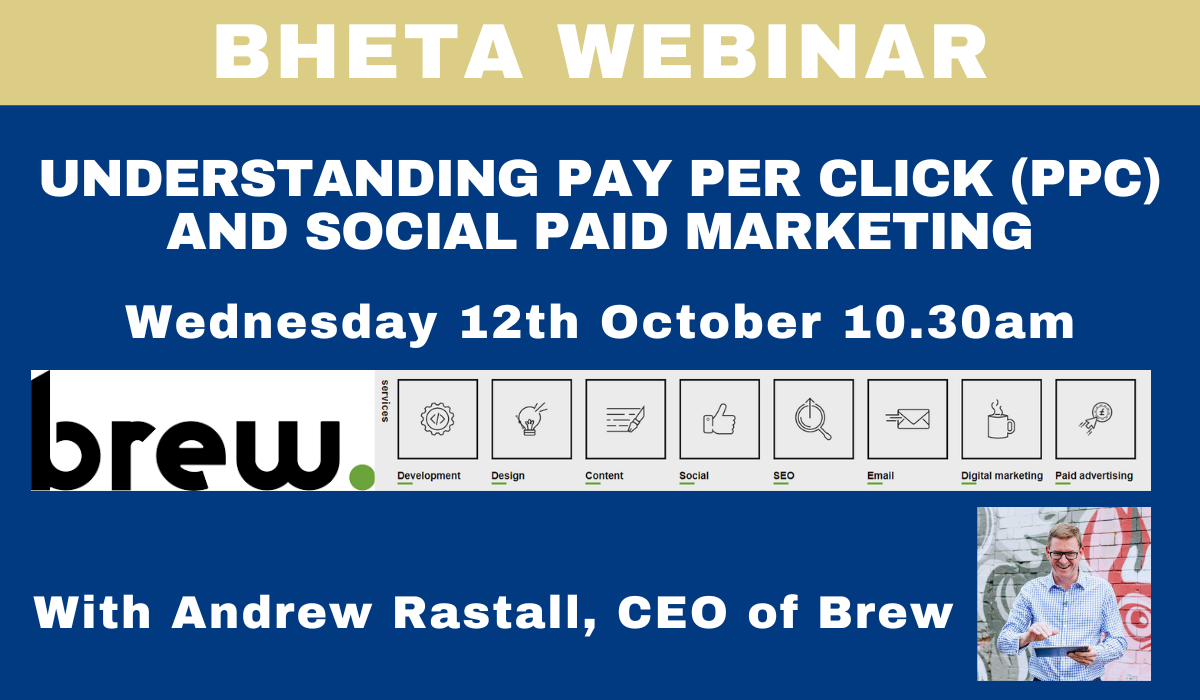 BHETA are pleased to announce the return of BREW's Digital Marketing Series commencing on Tuesday 13th September with Creating a digital marketing strategy.
BREW will be delivering a series of eight 30-minute webinars aimed at SME members of BHETA, who don't have an experienced in-house digital marketing team.  The sessions are also relevant to team members, from any size of company, who want to get to grips with the core structures and skills that underpin contemporary digital marketing.
Together, the webinars amount to a digital marketing foundation course. So, by attending all the sessions delegates will gain a good working knowledge of the individual elements in-house marketeers need to understand in order to run a solid programme of digital marketing.
These webinars tell you WHAT you need to know in order to understand how a digital marketing programme is put together. They will be backed up by a series of four workshops that tell you HOW to do the 'WHAT' that you have learnt in these webinars.
This will be the fifth time this series has been run.  For this latest iteration, as well as the core material being updated, the sessions will very much be run as a learning process.  So, as well as the main presenter, Andrew Rastall, a series of expert tutors will begin to play a part.  There will also be optional tests, accreditation and options to extend the learning into the practical workshops.
Session 4: Wednesday 12th October – Understanding Pay Per Click (PPC) and social paid marketing
An overview of the two main players in the paid channel, Google and Facebook as well as a look at some of the alternatives. BREW will show what companies need to do to make PPC work in their sales funnel by following a handy tick-list. They will also show you how to learn how to do all the basics yourself, online, for free.
Following all of the 30 minutes webinar sessions you will have the opportunity to pose questions to Andrew.
To register for each of the events, please follow the links above and if you have any questions, please contact Member Services on info@bheta.co.uk
We aim to approve all registration applications within 48 hours, should you not received confirmation within this time please contact BHETA Member Services on info@behta.co.uk
Map Unavailable