BHETA's newly launched quarterly retail data service has proved a big hit with members. The first batch of EPOS information featured Q2 2018 statistics, based on the period from July 2017 to end July this year. Circulated in infographic form, the BHETA GfK Quarterly POS Index achieved an immediate 27.5% open rate.  It is available to members on an exclusive basis thanks to the trade association's exclusive deal with research and data provider, GfK.
The report, which correlates with the four categories detailed in BHETA's online Retailer Zone, which in turn reflects all the products in which BHETA members trade, is further broken down by the product groups within those categories.
Q2 Summary
It showed value growth in home improvement (DIY), housewares, small electricals and garden with the greatest upturn being in garden, mainly thanks to the seasonality of the sector, together with the recent good weather.
Weather was also a factor in the housewares category where barware and outdoor and outdoor and seasonal offset slight declines in some of the other product groups and a hike in the cookware and bakeware category could be traced to a new brand entering the market within the last 12 months. In small electricals, pick up in air treatment and air cooling was evident in the figures.
The home improvement (DIY) category also saw mixed fortunes across the product groups with many of the indoor sectors such as wall and floorcoverings showing a downturn, while summer's traditionally larger scale projects clearly drove growth in tools, workwear, safety wear and protective clothing.
Commenting on the first set of GfK EPOS figures to be available in this form, BHETA housewares sector director, Will Jones said, "Providing information in this category-specific way will enable BHETA members to benchmark their own company's performance against the market."
Home improvement (DIY) sector director, Paul Grinsell added, "The BHETA GfK Quarterly POS Index provides bite-sized chunks of contemporary, actionable information. We will be picking up on the implications and opportunities at BHETA forums where speakers from GfK will join members to discuss the data.
If you missed the latest POS Index, click on the link below to view PDF: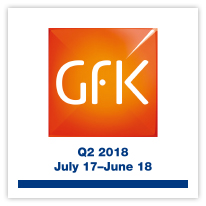 GfK is one of the world's leading research companies.   It employs over 12000 analysts to track consumer behaviour in over 100 countries.
For more information about BHETA, contact the Member Services Team on 0121 237 1130.
Source: BHETA
September 2018