Date/Time
Date(s) - 11/10/2023
2:00 pm - 3:00 pm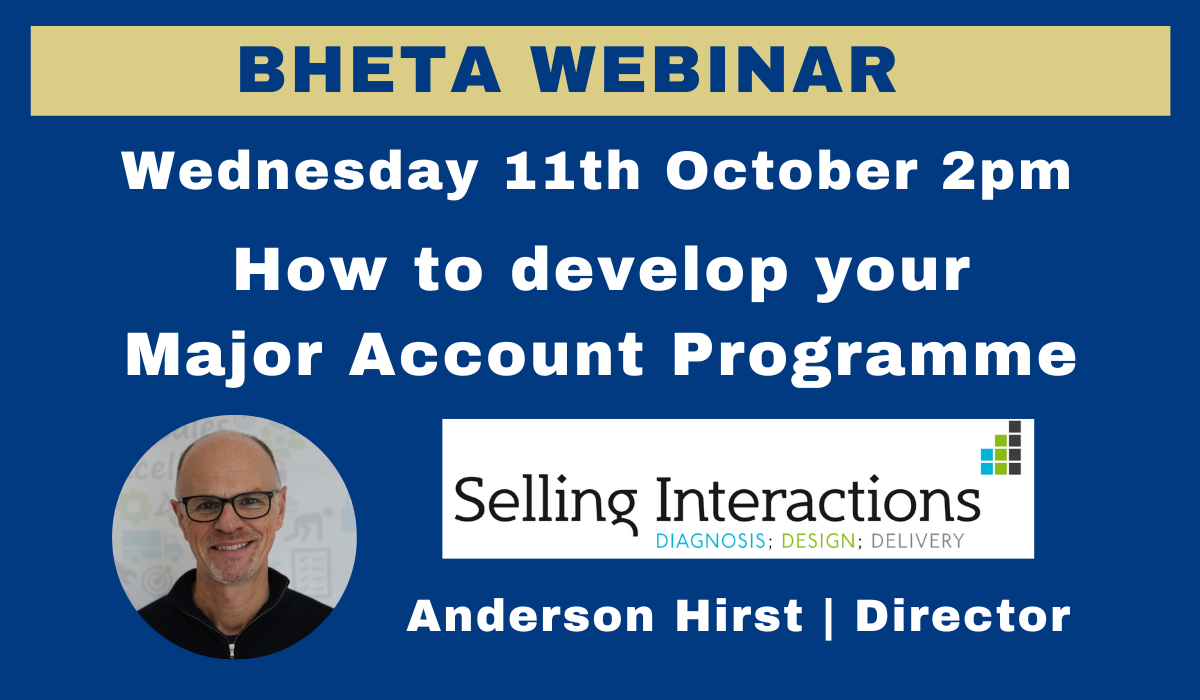 BHETA is delighted to announce we will be hosting a webinar with Selling Interactions on Wednesday 11th October at 14:00.
BHETA completed its first Major Account Programme for members in 2023, and during this webinar, Anderson Hirst, the programme manager will share current best practice thinking in this area:
What is your strategy for managing your largest accounts?
How do you define your "major accounts"?
And do you have plans in place to develop the best opportunities?
The webinar will include:
a diagnostic exercise, so you can assess where you are today in terms of managing major accounts
an overview of some core concepts covered in the programme
By attending the webinar, you will:
have a good sense of what your strengths and weaknesses are in terms of managing major accounts
gain an understanding of BHETA's open programme, so you can decide if it would be helpful for you or your team
About Selling Interactions: "Selling Interactions was set up in 2010 with a very simple philosophy – search relentlessly for sales best practice and use the insights to help clients improve their sales organisations and ultimately their sales. We believe there are many approaches that can be used to improve sales organisations and we work hard to research and discover them so you don't have to. Concretely, we screen sales – specific research journals, sales research organisations, sales consulting and training providers, client programmes and our partner's sales programmes to catalogue and categorise sales best practice".
About the speaker, Anderson Hirst: "Starting out in front line technical sales in 1991, he 'carried the bag' for 7 years, before entering the field of sales training and consulting. Working 10 years at Krauthammer International, Anderson sold designed and delivered multiple international sales improvement projects. In 2005 he studied an MBA at Warwick Business School and used his research into sales process to build the foundations of Selling Interactions. Today, he is a passionate researcher of sales best practice, splitting his time between sales research and hands-on delivery.
To register for the event, please follow the link below and if you have any questions, please contact Samantha in Member Services on sa@bheta.co.uk
Map Unavailable