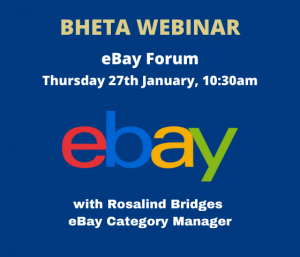 BHETA are delighted to welcome eBay to a forum on Thursday 27th January, 10:30am.
We will be first joined by Globaldata, they will talk for 10-15 minutes about DIY & Gardening market trends.
Then Rosalind Bridges, eBay Category Manager, will talk about eBay for 20-30 minutes, with a DIY & Gardening focus.
To register for the event, please follow the link below and if you have any questions, please contact Zara in Member Services on zm@bheta.co.uk