Date/Time
Date(s) - 17/03/2022
All Day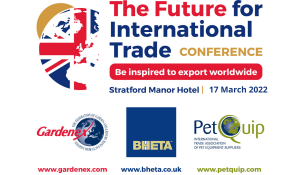 Your invitation: be inspired to export worldwide
Join us at the Stratford Manor Hotel in Stratford upon Avon on Thursday 17th March for this one day conference, organised by BHETA in conjunction with Gardenex, PetQuip and CHA.
• Learn about the latest economic, technical and legal issues facing exporters as the date for UK's withdrawal from the EU approaches
• Hear a packed programme of expert speakers, who will all provide practical advice and inspiration to new and seasoned exporters
• Listen to five case studies from companies in our sectors, sharing their export experiences and successes and the challenges they have faced along the way
• Find out from leading international market research company Euromonitor about the current international retail trends and the impact on how and where consumer goods in our sectors are sold around the world
• Hear about the future for international trade and retail, a speaker who will inspire the audience to develop an international trade strategy
• Visit our 'Ask the Expert' zone, where a number of leading organisations will have information and advice on how to help you with your international trade
These include the Department for International Trade, which will have information on the multiple ways it can help exporters
In these uncertain times, the conference will be a timely opportunity for you to network and exchange information with fellow UK exporters from the Housewares, DIY, gardening, pet product, horticultural sectors
This is your opportunity to gain insights, advice and inspiration from the professional speakers and experts taking part as well as fellow exporters.   
BHETA's Chief Operating Officer, Will Jones commented, "There is already significant industry interest in this top-level export conference thanks to the quality of the agenda and the insights, inspiration and practical advice that the speakers will give delegates. As joint organisers and sponsors, BHETA, Gardenex and Petquip are working with the venue to ensure that all necessary safeguards are put in place vis a vis Covid to ensure that the conference is secure and both speakers and delegates can enjoy it with confidence."
Director General of Gardenex and PetQuip, Amanda Sizer Barrett confirmed: "The Future for International Trade conference is always a lively and informative occasion focussing on retail trends in international markets, the practicalities of export logistics, compliance and the inspiring case studies by some of the UK's leading exporters. It's all about helping UK companies navigate their best routes to secure international sales, especially in a changed world post-Brexit and with the ongoing impact of the pandemic."
Rates & How to book:
Members of BHETA, Gardenex and PetQuip can secure a preferential delegate rate of £69 per person + VAT at the conference.
The non-member rate to attend this event is £149.00 + VAT per person to cover administrative and venue costs.
The cost includes free parking, refreshments, and a buffet lunch. To secure your booking, payment is required prior to the event.
To book your place or if you have any queries, please contact Zara on 0121 237 1130 or email: zm@bheta.co.uk
Where to stay locally
Stratford Manor Hotel is expected to be busy. We urge you to contact the hotel direct as soon as possible to reserve your room. Tel: +44 (0)1789 731 173 Stratford Manor Hotel Website
An alternative local hotel is the Chesford Grange +44 (0)1926 859 331 Chesford Grange Hotel website
Map Unavailable