Date/Time
Date(s) - 29/09/2023
9:00 am - 12:00 pm
The third edition of the Virtual DIY-Summit will take place on 29 September 2023. Join the digital event and be part of the most exclusive network of executive managers in the Home Improvement industry!
The Virtual DIY-Summit is the world's major event where retailers and manufacturers from the home improvement and garden centre industry have the opportunity for an exchange of views of current and future developments within the global market. This event is being jointly hosted by the leading DIY professional organisations, EDRA (European DIY-Retail Association), HIMA (Home Improvement Manufacturers Association), and ghin (Global Home Improvement Network).
The event is FREE.
PROGRAMME
THE DIY OF TOMORROW – Unleashing Innovations for a Better Future
10:00 – 10:10: Welcome and Introduction
by John W. Herbert
10:10 – 10:20: Presidents Welcome
by Thierry Garnier, CEO, Kingfisher plc / President EDRA/GHIN & Reinhard Wolff, Managing Partner, wolfcraft / President, HIMA
10:20 – 10:40: DIY-Dilemma's – Deriving Directions During Difficult Times
by Duncan Simmonds, Partner, OC&C Strategy Consultants & Bob Chermin, Partner, OC&C Strategy Consultants
10:40 – 11:00: The World Becomes Local – How OBI Uses Local Data to Reach and Convert Customers
by Christian Hein, Vice President Digital Performance & Frontend Experience, OBI
11:00 – 11:20: Sustainability for DIY Market Leaders – How to Move Now
by Christopher Scheubel, Co-Founder & CEO, cubemos GmbH
11:20 – 11:35: Networking Break
11:35 – 12:00: Economic Outlook – Situation and Trends
by Alexander Börsch, Chief Economist & Head of Research, Deloitte
12:00 – 12:20: Designed for Life since 1649 – Sustainability
by Kati Ihamäki, Vice President Sustainability and Public Affairs, Fiskars Group
12:20 – 12:45: Better Together: Leveraging Collaboration to Thrive Through Uncertainty
by Madeleine de Hauke, Founder & CEO, Business4Good
12:45 – 13:00: Farewell Wrap-Up
by John W. Herbert, General Secretary EDRA/GHIN & Iñaki Maillard, Managing Director, Global DIY-Summit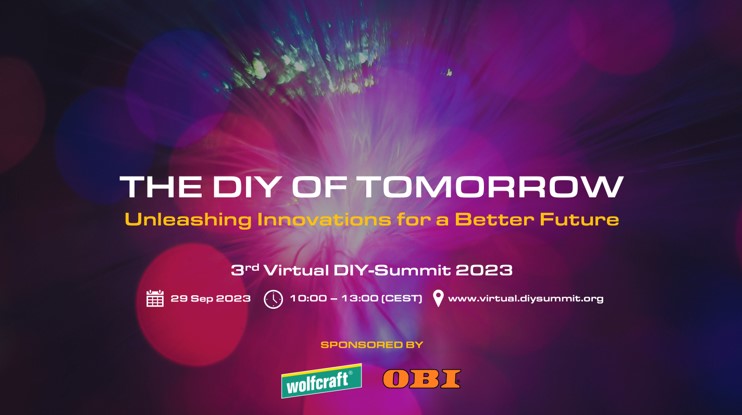 Map Unavailable